Welcome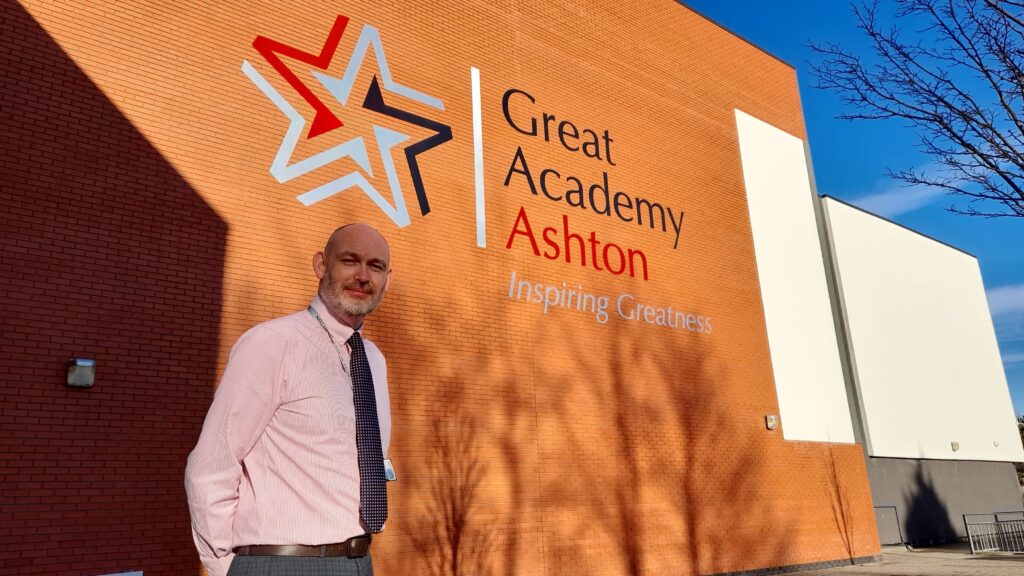 Great Academy Ashton is a school filled with over 1300 inspirational and ambitious young people and I am blessed to serve them with over 200 highly talented, highly dedicated, expert staff.
As your Head Teacher I am proud to have such a supportive, expert and engaged staff team and I hope that you will be equally inspired by our learning community. Our school, and the schools within our trust, are truly great schools where our values lie at the heart of everything we do.
Simply put, I believe that my job is to metamorphosise the life chances of the young people in the community we serve and we do this by giving them the best outcomes, the best experiences and the greatest of participation and celebration so that they will achieve in line with the best students in our country.
Great Academy Ashton is a large 11 – 16 school that serves the communities in and around Ashton-under-Lyne and the surrounding areas of Tameside, Oldham and Manchester. Our school is the beating heart of our community and we pride ourselves in our vision as a school which serves our community and works in partnership as part of a community based, values focussed, cross phased multi-academy trust.
We have approximately 1300 students in Years 7 to 11 and offer a full academically inclusive curriculum with exceptionally high expectations over the knowledge, the skills and the experiences all of our students will gain during their time with us. We strive to deliver the best results with our enthusiastic and talented team of staff who see it as their job to help every one of our students to achieve their individual potential. We have a wide and engaging curriculum with English, mathematics, science, humanities and modern foreign languages at its core. Alongside, personal values education, performing arts, expressive arts and physical education and community programmes, we also develop our students' wider personal and leadership skills and help to equip them for a successful future in our changing world
We have an exceptional £43 million building and as you would expect, we are able to offer one of the most stimulating learning environments in the North West of England, with cutting edge facilities in each department. Outstanding sports, art, drama and music facilities are available to all students and are regularly used by our community too. GAA prepares students for their futures by educating minds and developing character.
Our students are GREAT – Genuine, Respect, Excellence, Achieve, Together. I am very proud of all of them, and very proud to be part of the Ashton and Tameside communities. We are proud of the high academic and vocational standards our students achieve, but equally proud of the way in which they grow up to be responsible, hardworking and healthy adults who contribute fully to their community. I hope our website gives you a taste of our vibrant and successful learning community.
Please do not hesitate to contact us in school if you need more information or perhaps consider following us on twitter through @GaaPrincipal and @GAAshton_news.
Mr David Waugh
Principal
Supporting Information
Latest News
Latest Tweets