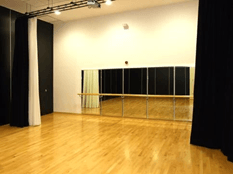 Drama / Dance Studio
More and more dance teachers are taking matters into their owns hands and choosing to hire dance studio space, in the knowledge that they have a healthy following who are prepared to pay for their time and the cost of dance studio rental.
Dance studio hire makes a lot of sense for a number of different reasons for instructors: it ensures against overcrowding; sessions can be booked based on participants' availability; and it's relatively cheap.
It's not only dance teachers who might choose to hire a dance studio – private individuals will sometimes rent out studio space in order to practice their routines ahead of competition, while holiday camps will often use school facilities to accommodate their dance enthusiasts.
Whether you're a dance teacher searching for a professional studio, a dance competitor looking for some practice space, or the head of a holiday camp on the lookout for local facilities, the Academy has two professionally equipped dance studios with a wall of mirrors, dance bars and a sprung floor.
The drama studios have been professionally equipped with lighting and sound and each one can be linked by opening a partition wall to create a small size theatre studio, which can hold approx. 90 adults.
Both rooms can also be linked to the auditorium to create a stage area.
If you are interested in hiring our facilities contact our lettings team on lettings@gaa.org.uk
Additional Venues for Hire