Drama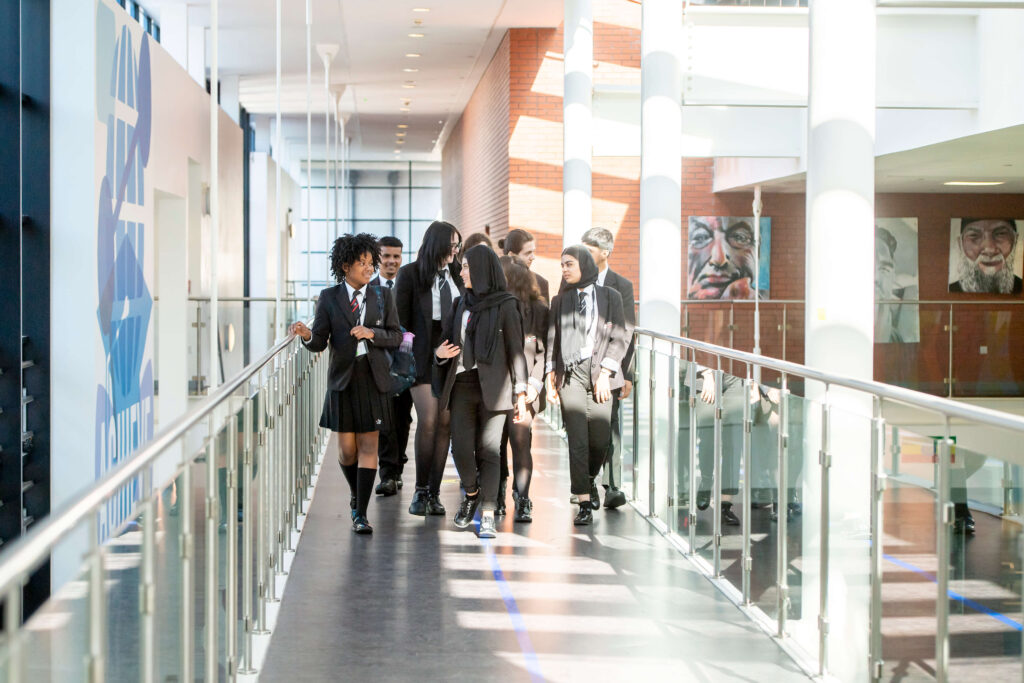 Students are taught drama skills through a thematic approach in Key Stage 3 (Year 7, 8 and 9). There are 3 strands of skills; creating, performing and evaluating. Each scheme of learning allows students opportunity to develop the skills within each strand
Year 7
The topics followed are: Darkwood Manor, Silent Movies, Refugees, Ernie and his Incredible Illucinations
(Scripted), Superheroes.
Year 8
The topics followed are: Dilemmas, Aging in the Community, Let him have it, Our Day Out (Scripted),
Ben: Bullying and runaways.
Year 9
The topics followed are: The Stones, DNA (Scripted) and I don't like Mondays
Years 10 and 11
KS4 students study either Edexcel Drama GCSE or BTEC First Award (Level 2) in Performing Arts
DRAMA GCSE
Component One: Devising 40% (60 marks)
Performance of this devised piece
Analyse and evaluate the devising process and performance.
Internally assessed, externally moderated
Component 2: Performance from Text 20% (48 marks)
Students perform two key extracts live to examiner.
Externally assessed
Component 3: Theatre Makers in Practice 40% (60 marks)
1 hour written exam in two sections: Set text & Live theatre evaluation
Externally Assessed – Core skills taught:
The ability to recognise and understand the roles and responsibilities of performer, designer and director
The study and exploration of texts and extracts include the relevant social, historical and cultural contexts
The ability to analyse and evaluate their own work and the work of others
The ability to understand how performance texts can be interpreted and performed.
The Drama GCSE qualification is 70% written, it is an academic GCSE that hugely supports English Literature study. The Drama GCSE prepares students to study Theatre Studies at A Level and further study.
BTEC FIRST AWARD
The qualification provides students with a broad foundation which will help enable them to proceed into further training or education, or to consider employment in the performing arts world. The course aims to give a practical understanding of what a career in the performing arts world can entail, from business to performance, and it has a specific focus on acting.

Students study real-life, work-based case studies and complete projects and assessments, which contribute to achieving each unit studied. In order to complete each unit, students must achieve against a
set of outcomes. The assessment criteria address theory with practical exercises. The assessment process is on-going, so it allows the student to analyse and improve their own performance through their
course in much the same way as they would in a real workplace.
The projects that students undertake form the basis of their unit results which are graded as a Pass, a Merit, a Distinction or a Distinction *. In the externally assessed Unit, students prepare and perform in 2 performances and a written piece in controlled conditions, that is then marked by an external examiner.
Students will study the following units:
Individual Showcase: Performance and letter of application
Externally assessed
Preparation, Performance and Production:
Students produce and perform in their own production
Internally assessed
Acting Skills: Vocal and physical skill based workshops and performances
Internally assessed